LAM 360°
2018
Markings
Home from Memory – Home from Mongolia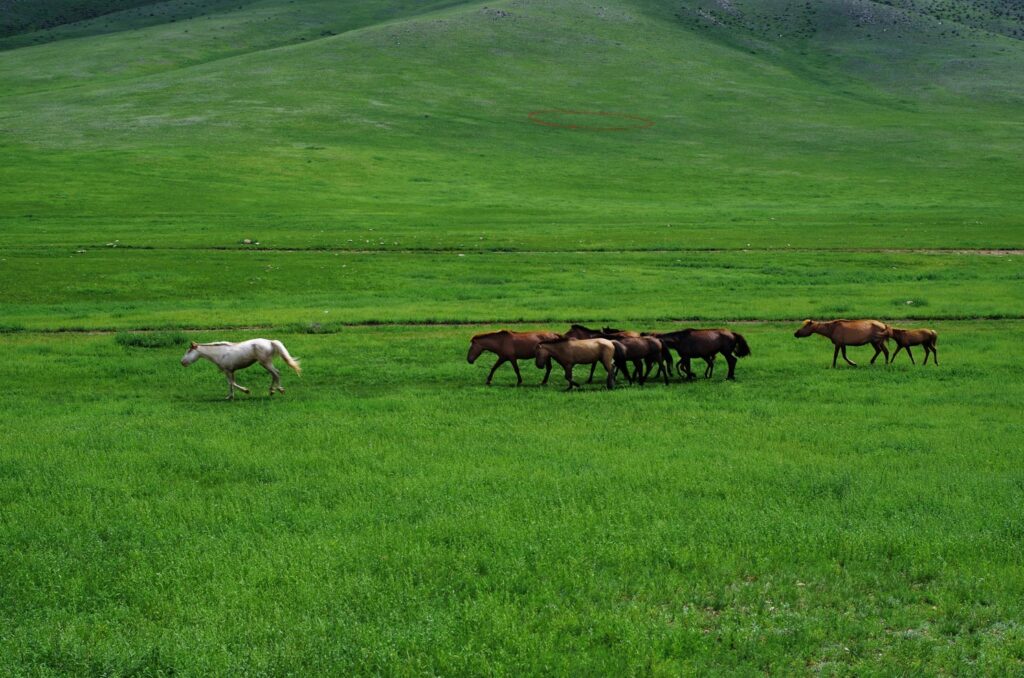 Akmar made a diptych on the steppe of Mongolia. Both works consist of 300 marking flags of 80 cm high. A marking flag has a dual meaning, it can mark something that happened in the past (here it happened) and mark something of what is to come (here it will happen).
The work Home from Memory is located on a mountain hill. From here you can overlook the valley, the endless landscape of Mongolia. In this emptiness the artist wanted to test her memory. She redefined the floor plan of the house in which she grew up.
In her memory the place seems to be close in reality Akmar has not been there for more than 15 years. The expanded floor plan, with only her body as a measuring instrument, appeared to be similar in shape to the original house. The surface, on the other hand, had become more than twice as large. In the installation of Home from Memory Akmar led several visitors around. This role was ambivalent; did she spoke here as someone who had knowledge of a house from the past or had she become a broker who showed the place of a new house to be built.
In Home from Mongolia, the artist placed the 300 flags in a circle with a diameter of 30 meters. The installation lay in the lee of a mountain, a protective spot. A visiting Mongolian on his motorbike asked what the flags meant on this spot. He did not wait for the answer of the artist, but answered his question himself: '' The circle is an important form for Mongolia. Everything is round: the  seasons, the earth. I think it's a holy place. But it can also be the place where the great Yurt of Genghis Khan stood."
Videos were made of both installations.
WHO ARE WE NOW?  The 5th Landart Biennial took place from July 30th – August 25th 2018 in Mongolia.  Curator Lewis Biggs & Solongo Tseekhuu
Participating artist: SHIRIN ABEDINIRAD, BAT-ERDENE BATCHULUUN, BATSAIKHAN SOYOLSAIKHAN, CAMILLE BIDDELL, ANA LAURA CANTERA, VIKRAM DIVECHA, MICHELE GIACOBINO, SOPHIE GUYOT,  MARIKO HORI,  JUNICHIRO IWASE,  MUNKHJARGAL JARGALSAIKHAN,  RICHARD JOCHUM,  TANYA P. JOHNSON,  LEUNG MEE PING,  ZHENG LU,  JETTE MELLGREN, SENA PARK,  ELIZABETH PRINS,  MEGUMI SHIMIZU,  ODMAA URANCHIMEG,  ALLARD VAN HOORN,  RONALD VAN DER MEIJS,  WU SIOU MING,  AKMAR,  TETSUO YAMASHIGE.
THE BIENNIAL
LAM 360° (Land Art Mongolia | acronym LAM) is a biennial art festival located in Mongolia. LAM focuses on Land Art as a form of spatial visualization of the relations between nature, culture and social policies. It strongly promotes freedom of expression in joining people and institutions from all sectors of Mongolian society by meshing their respective backgrounds and perspectives through collaboration and networking actions of regional and global scope.
By doing so, the organisation would like to incite an advanced discourse on cultural and social policy which will take up environmental and social sustainability with a strong emphasis on the most vulnerable sectors of society in Mongolia (such as: nomadic people | ethnic minorities | non-commercial cultural organizations and youth) in the broader perspective of cultural transformation in Central Asia.